Learn to dance for your wedding is a lot of fun
The memory of doing the wedding dance can be savor for many years to come.
---
We Teach Wedding Dance
We can make you a beautiful dance routine with your favorite song and let your family and friends to see how happy and wonderful you are together. Most importantly, you enjoy the romance and movement together.
We will custom tailor a program especially for you. Your wedding day deserves to be unique. Come to create the beautiful memories of your dreams.
We offer three categories of wedding dance or first dance
For the Wedding Couple
For Father and Daughter (the Bride)
For Bridesmaids and Groomsmen Group Dance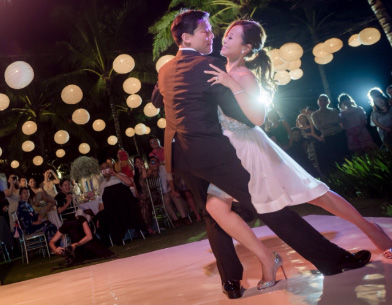 ---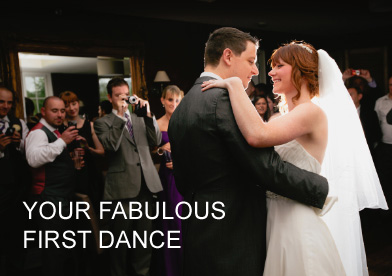 Surprise your guests with a fabulous first dance
Select your own music, a song that has a special meaning to you both, and Herman Lam Dance Studio will choreograph that special dance just for you.
A wedding dance to make your family cry and your friends cheer!
Couples the world over want that special, first dance. At Herman Lam Dance Studio, we will create a Wedding Dance just for you. Our Wedding Dance programme is designed for couples who want to learn to dance together to today's music or their own special song.
You can select steps from a number of different dance styles - Slow Waltz, Cha Cha, Jitterbug, Polka, Viennese Waltz and the Contemporary Slow Dance. The Contemporary Slow Dance is the most popular and is suitable for many of today's slow, romantic songs. Ballroom is also a popular choice for Wedding Dances.
---
Wedding Dance Routine Sample
Foxtrot as The First Dance
Mr. and Mrs. Tucker danced their first dance using 'Come fly with me' dancing foxtrot at their wedding. It is good choice for beginner dancers. The dance is easy to learn and very elegant in its form.
Viennese Waltz as Wedding Dance
The couple is using 'Second Waltz' as music and Viennese Waltz for the first dance. It is a very fast moving dance and it is most formal and elegant. Recommend for the experienced dancers.
Tango as The Wedding Dance
Casameto and Adriana doing Argentina tango as their wedding dance. It can be a lot of fun. The dance is relatively easy and playful. Besides, it is most seductive of all dances.
Swing - Sing Sing Sing
They have used the music, 'Sing Sing Sing' to do Swing as their first dance for their wedding. It is an energetic dance and a lot of fun.
Dirty Dancing
This is the dance routine from the movie "Dirty Dancing" by Patrick Swayze and Jennifer Grey. Many wedding couples like this routine, if you also like it, we can teach you and your partner to do the same routine without the lift at the end. We can change to an easier lift or a dip to finish.
---
Talk to us and we can help you decide on the right dance for you.
---
Wedding – Fees & Packages


We recommend you begin taking lessons 3 to 6 months before your wedding to make sure you have enough time to learn and perfect your dancing.
Wedding Couple Special
Package
HK$7000 one package of 10 x 45 minutes lessons for couples, includes wedding dance choreography and 5 one hour practice sessions.

HK$3800 for half package of 5 x 45 minutes lessons for couples, includes wedding dance choreography. Studio for practice is $250 per hour.
Single lesson
HK$800 for a 45 minutes lesson for a couple


We will do 2 x 45 minutes lessons per session. Minimum one session per booking.
Cancellation or change of booking to be made 1 day (24hrs) in advance by phone or full payment of the booking will apply
For payment details please refer to Dance Classes